2015 Book Prize Shortlist: Edition, Anthology, or Essay Collection
The Modernist Studies Association has announced its short list for the 2015 MSA Book Prize for an Edition, Anthology, or Essay Collection. One of these six books will be presented as the award winner in Boston at our 17th annual conference, November 19-22. We offer our congratulations to all of the finalists.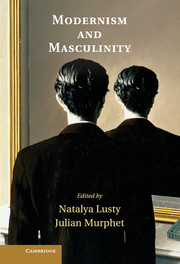 Natalya Lusty and Julian Murphet, eds, Modernism and Masculinity (Cambridge)
A much-needed collection marking a crucial moment in the robust critical history of feminist, gendered, and queer readings of modernism. Lusty's indispensable introduction elucidates the existing work on modernism and masculinity, identifying the key questions and tensions surrounding such topoi as the masculinization of modernist aesthetics, the seemingly inescapable rhetoric of a "crisis of masculinity," and the pressures to male self-construction under conditions of war, colonialism, and modernity writ large. In sections on "Fields of Production," "Masculinity in Crisis," "New Men," and "Masculine Form," thirteen scholars attend to such rich fields as visions of utopian masculinities (Vorticist, Fascist, Lawrentian) and offer fresh views of the feminization of print culture and the search for masculine or androgynous aesthetic forms.
Anthony Cuda and Ronald Schuchard, eds, The Complete Prose of T. S. Eliot, Volume II: The Perfect Critic, 1919-1926 (Johns Hopkins)
A monumental work of scholarly editing, the long overdue Collected Prose of T. S. Eliot is sure to be widely used, appreciated, and admired. Volume II finds Eliot in his most prolific and indispensible years as a critic. Amidst such touchstones as the Sacred Wood essays, here one finds such important and previously uncollected material as neglected entries from the Dial "London Letters," reviews and regular commentaries from The Criterion, and unsigned book reviews from far-flung locations, on often surprising topics. While the entire edition, projected to eight volumes, constitutes a major achievement and an indispensible archive, Volume II is certain to be the one most used by scholars, most central to ongoing studies and re-evaluations of Eliot and the history of modernist criticism. Clear and easily grasped editorial principles and superb content notes speak to the dedication, diligence, and sound sense of the editorial team.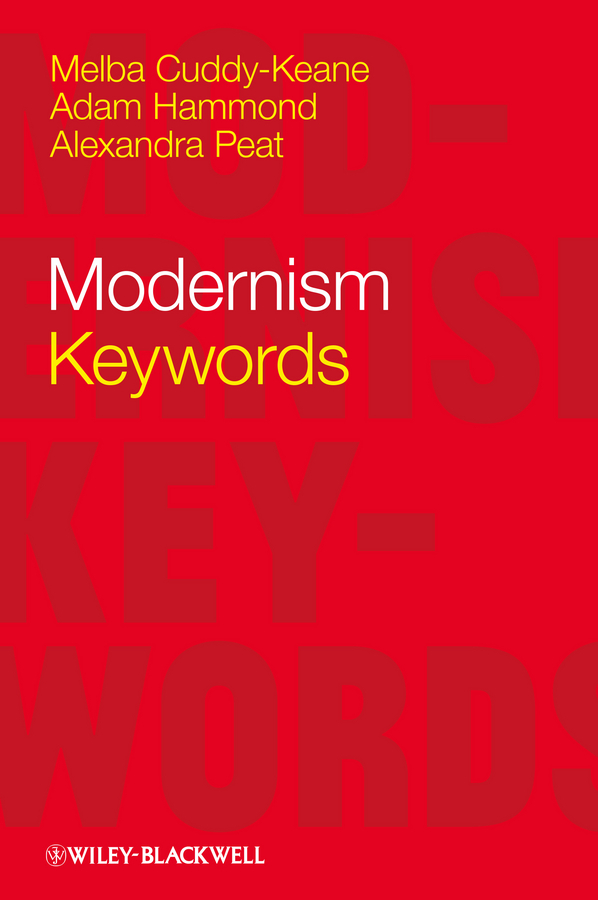 Melba Cuddy-Keane, Adam Hammond, and Alexandra Peat, Modernism Keywords (Wiley-Blackwell)
Adapting Raymond Williams methods from Keywords: A Vocabulary of Culture and Society to what they call "written modernism," this volume's authors construct rich and engaging entries on thirty-nine terms central to discussions of literature, art, and culture that were undergoing contest and transformation in the late nineteenth and early twentieth centuries. The emphasis falls not on what these words mean to us today but on the many, often contradictory, things they meant to those living with the transformations of modernism and modernity. The list of terms runs the gamut from expected entries such as "New Woman," and "Shell Shock" to more surprising but equally revealing notes on "the atom," "hygiene," and "bigness and smallness." In total, the book uses such detailed historical analysis of terms to challenge limited notions of modernism. The entries are full of surprises, and it's not the least of the compliments due to this book to say that it is remarkably fun to read.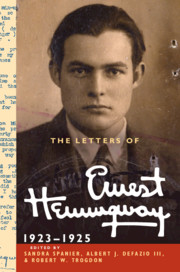 Sandra Spanier, Albert J. DeFazio III, and Robert W. Trogdon, eds, The Letters of Ernest Hemingway, 1923-25 (Cambridge)
This impressive second volume of Ernest Hemingway's letters will reshape and deepen our understanding of the writer's activities during the crucial years of 1923-5, the period responsible for In Our Time and The Sun also Rises. Not only that, the edition provides an unprecedented account of the networks of expatriate Paris in the mid-1920s. We see Hemingway in lively and candid dialogue with Gertrude Stein, Ezra Pound, F. Scott Fitzgerald as well as publishers and family members. Of the 242 letters in this meticulously prepared edition close to two thirds are previously unpublished. Textual apparatus includes a full introduction and generous annotation in addition to indispensable resources such as a roster of correspondents and an index and calendar of letters. Visual materials such as postcards, photographs and maps augment this significant work of scholarship.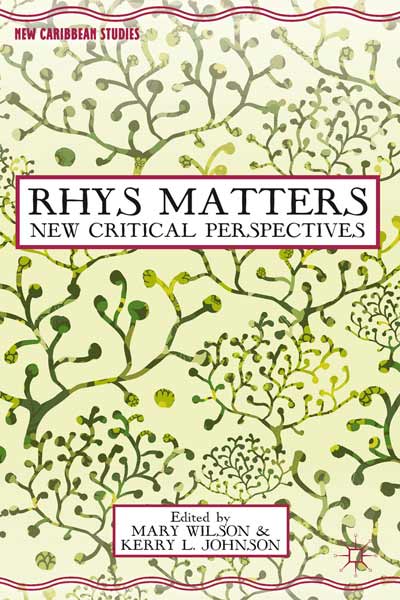 Mary Wilson and Kerry L. Johnson, eds, Rhys Matters: New Critical Perspectives (Palgrave Macmillan)
Despite the fact that Jean Rhys has become a central figure in many significant debates in contemporary modernist studies (e.g. in women's writing, globalization, post-colonialism), this is the first collection of essays on Rhys's work for more than twenty years. The collection demonstrates many fresh and stimulating insights into Rhys's texts, with an extended focus upon her short fiction, which is often ignored in critical studies of her work. One particularly strong section explores the thematics of space and place in Rhys. Overall, it is a collection that makes an overwhelming case for the centrality of Rhys to ongoing debates around world and global modernisms.
Mark Antliff and Scott W. Klein, eds, Vorticism: New Perspectives (Oxford)
A beautifully produced volume that will surely become the definitive collection of essays on the Vorticist movement, discussing all aspects of its manifestation as the first English avant-garde. Indeed, one of the strengths of the volume is the overwhelming case it makes for considering Vorticism alongside such other movements as Futurism or Surrealism, rather than being viewed as a 'failed' English attempt at an avant-garde. It also reveals Vorticism to be a much more plural movement than simply that espoused by Wyndham Lewis – containing essays on T. E. Hulme, Edward Wadsworth, and the female Vorticists, Jessie Dismorr and Helen Saunders. With a stellar set of contributors and extensively illustrated, this is a volume that genuinely offers 'new perspectives' on both Vorticism and its place in modernist studies.
2015 MSA Book Prize for an Edition, Anthology, or Essay Collection Committee
Patrick Collier, Ball State University (chair)
Anna Snaith, King's College London
Andrew Thacker, Nottingham Trent University

About
Each year, the Modernist Studies Association seeks nominations for its Book Prize, awarded to a book published in the previous year. A panel of judges determines the book that made the most significant contribution to modernist studies. The winner receives $1,000 plus up to $600 toward travel expenses to the MSA Conference, where the award is presented. A book first published in another year will not be eligible for the prize. This exclusion applies even if a new edition (paperback or revised, for example) was published in the award year.

Nominate a book
Archive of previous winners
Please visit our Nominations page to recommend a book for this year's prize.
Visit our archive to see previous winners.