2016 Book Prize Shortlists
MSA Book Prize (for a book published in 2015)
The Modernist Studies Association has announced its short list for the 2016 MSA Book Prize. One of these four books will be presented as the award winner in Pasadena at our 18th annual conference, November 17-20. We offer our congratulations to all of the finalists.
Weihong Bao, Fiery Cinema: The Emergence of an Affective Medium in China, 1915-1945 (University of Minnesota Press, 2015)
Fiery Cinema tracks the emergence of a particular set of discourses around and practices in Chinese cinema in the period 1915-45. In this context, it argues, cinema is understood to be an affective medium, which means not only that it solicits an immediate affective response from the audience but that it also serves as a 'mediating environment' immersing the personal in the social. Bao recovers a rich vocabulary and set of theories from Chinese film journals in support of this thesis with scholarly commitment and intellectual daring. The book's controlling metaphor of fire carries the reader through several phases of Chinese cinema in its social and historical locatedness – from the early martial arts films of Shanghai, via left-wing spoken film, through to the global aspirations of the Chongquing cinema industry. The developments within cinema are related in detail to emergent media, architecture, commodity culture, and the demands of propaganda. Fiery Cinema is a fascinating and altogether accessible account of an area of film which has been little discussed in the context of Modernist Studies.
William J. Maxwell, F.B. Eyes: How J. Edgar Hoover's Ghostreaders Framed African American Literature (Princeton University Press, 2015)
F.B. Eyes is an extraordinarily rich account of FBI surveillance of African American modernists from the origins of the FBI to the 1970s. It is striking not only for its account of the reach and extent of this surveillance but also for its links to the literary critical establishment, from the well-known story of Encounter to the role played by the likes of William C. Sullivan, Robert Adger Bowen and Norman Holmes Pearson. Maxwell shows how the FBI's study of African American writers was tightly bound to the agency's successful evolution under Hoover, and casts the FBI as perhaps the most dedicated and influential forgotten critic of African American literature, showing how the FBI helped, even, to define the twentieth-century Black Atlantic. The work's theses on the formation of the Black Atlantic have a resonance and significance for modernist studies beyond the immediate historical context, and Maxwell makes a welcome challenge to received views of modernist cosmopolitanism and exile. While closely focussed on the history of the FBI, and taking its place within the now extensive body of work on that subject, F.B. Eyes is a dense work of scholarship which has essential implications for the understanding of Afro-modernism.
Paul Saint-Amour, Tense Future: Modernism, Total War, Encyclopedic Form (Oxford University Press, 2015)
Tense Future tackles modernism as a product of the interwar period in terms of the collective psychological effects of the imminent dread produced by total war. The study draws out this new phenomenology of anticipation as one among other of the strands of modernism which can no longer be united under some global theory of modernism or modernity. This approach yields a series of stimulating readings of those modernist classics which deal with war – Parade's End, Ulysses, Mrs Dalloway and The Years – and makes a welcome foray outside that corpus to Cicely Hamilton's Savage, moving on to the question of historical archiving, which opens up the topic of the encyclopedism of modernism as a response to the fragility of civilizations revealed by total war. Aiming to be polyvalent and suggestive, Saint-Amour's text repeatedly glances forward from the interwar to the cold war, setting up models of interference which remind modernist studies not to be bound by period. Throughout, this study develops its arguments carefully through many layers, presents its case studies with clarity and control, and rewards the reader with a constant flow of insight.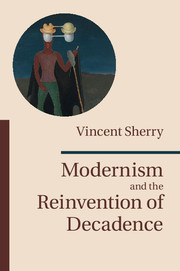 Vincent Sherry, Modernism and the Reinvention of Decadence (Cambridge University Press, 2015)
Modernism and the Reinvention of Decadence challenges conventional modernist literary history by tracing the multiple impacts and influences of decadent aesthetics, and cuts an original line through a broad range of the traditional materials of modernism, focusing on a decadent time sense that resonates in the 'poetic' pose from Wilde and Poe to Lawrence and Conrad. This study is an important contribution to our understanding of the continuities between fin-de-siècle, Edwardian and Modernist literature. It is impressively comprehensive in its attempt to map out and find pathways through what often seems like a disparate and confusing area of literary history with which we are still coming to terms. Sherry's study is at once broad in scope and refined in the detail of its exegeses, and moves deftly between some of the best-known documents of modernism and rich findings from the archive. Not least, this book helps us grasp the aesthetic consequences of the implicit conflict between the progressivism of the modernist sensibility and the cult of loss and exhaustion which characterises decadence.
2016 MSA Book Prize Committee
David Ayers (chair), University of Kent
Alan Golding, University of Louisville
Suzanne Hobson, Queen Mary University of London

MSA Prize for a First Book
The Modernist Studies Association has announced its short list for the 2016 MSA Book Prize. One of these four books will be presented as the award winner in Pasadena at our 18th annual conference, November 17-20. We offer our congratulations to all of the finalists.
C. D. Blanton, Epic Negation: The Dialectical Poetics of Late Modernism (New York: Oxford University Press, 2015)
With great theoretical and philosophical virtuosity, C. D. Blanton recalibrates the interpretive and historical possibilities of late modernist poetics. Epic Negation convincingly reconsiders British literature in the 1930s, a period regularly understood to mark the retreat of the "Auden generation" (including Stephen Spender, Louis MacNeice, Cecil Day-Lewis, and William Empson) from the precedents and commitments of such outsized precursors as T. S. Eliot and Ezra Pound. Developing an ambitious conceptual matrix, Blanton understands their writings not as diminished echoes of a prior generation's monumental innovations, but as tactical responses to perceptions of crisis, locally and globally. Epic Negation thereby confronts and corrects a conventional story of modernism's decline or dissipation toward mid-century, arguing that more lyrically self-contained works both sustain and radically intensify Pound's own "epic" injunction to make poems that "include history." In Blanton's account, late modernism is therefore still epic modernism, though by other means – embracing poetic practices "attenuated and dislocated, in a crucial sense disarticulated, by the very history" they must incorporate.
Hannah Freed-Thall, Spoiled Distinctions: Aesthetics and the Ordinary in French Modernism (New York: Oxford University Press, 2015)
Elegantly conceived and beautifully written, Hannah Freed-Thall's Spoiled Distinctions examines French modernism's aesthetic preoccupation with the commonplace and everyday. Through its analytically astute engagements with language and form, Spoiled Distinctions argues that in and around the deceptively empty terminology of the "quelconque," writers from Proust to Yasmina Reza describe an involving variety of artistic experience and response that emerges in the indeterminate, "whatever" styles of attention to aspects our shared world that seem hard to specify or value. In a series of subtle, intricate, and absorbing close readings, Freed-Thall discovers a wonderfully disruptive sense of modernism as a mode that is attuned to registers of meaning that become weirdly beautiful in their stubborn embodiment of the ordinary, even as they come to suggest that our perceptual field is all but sublimely nuanced in its capacity to elude the names we use to order and contain it.
Steven S. Lee, The Ethnic Avant-Garde: Minority Cultures and World Revolution (New York: Columbia University Press, 2015)
In The Ethnic Avant-Garde, Steven S. Lee considers a moment in the 1920s and 30s when minorities could envision themselves at the forefront of both artistic innovation and cultural revolution. Moving between the Soviet avant-garde and African Americans, Jewish Americans and Asian Americans, Lee's rigorously historicized and argumentatively complex account of the relationship between aesthetics and politics across the World War Two divide reconstructs a story of intercultural-artistic possibility in which three conceptual categories (vanguard, avant-garde, and ethnic identity) were not incompatible and do not by necessity have to be. The book retells a story of the famously fraught relationship between the two internationals (the vanguard and the avant-garde) through their engagement with racial and colonial oppression. In so doing, Lee moves athwart the perspectives of Marxist scholarship and critical race studies alike to reveal that socialist aspiration and ethnic difference can indeed be compatible, if only when the latter attachment involves cross-ethnic identification rather than ethnic exceptionalism.
Nicole Rizzuto, Insurgent Testimonies: Witnessing Colonial Trauma in Modern and Anglophone Literature (New York: Fordham University Press, 2015)
Insurgent Testimonies challenges the temporal and territorial boundaries of modernism in utterly compelling ways. With a methodological vocabulary that synthesizes incisive close readings of form with an account of the perception of psychic and social damage, Nicole Rizzuto traces how testimony to the traumas of British imperial violence was secreted into modernist insurgent writing. The book ranges agilely across genres, moving beyond fiction to include autobiography, critical essays, and other modes of confessional writing. Through meticulous readings of texts by Joseph Conrad, Rebecca West, H.G., V.S. Reid, and Ngũgĩ wa Thiong'o, Rizzuto demonstrates the political and ethical rewards of intimate attention to style and structure. Her readings of trauma itself transform our affective and historical understanding of its anatomy and consequences; rather than privileging rupture, she shows how trauma operates in networks of memory. Moving with ease across the twentieth century to reframe modernist writing and its legacies, the book undertakes vital work that will bring postcolonial, transnational, and trauma studies into fresh and difficult dialogues with modernism.
2016 MSA First Book Prize Committee
David James (Chair), Queen Mary, University of London
Tsitsi Jaji, Duke University
Mark Goble, University of California–Berkeley

About
Each year, the Modernist Studies Association seeks nominations for its Book Prize, awarded to a book published in the previous year. A panel of judges determines the book that made the most significant contribution to modernist studies. The winner receives $1,000 plus up to $600 toward travel expenses to the MSA Conference, where the award is presented. A book first published in another year will not be eligible for the prize. This exclusion applies even if a new edition (paperback or revised, for example) was published in the award year.

Nominate a book
Archive of previous winners
Please visit our Nominations page to recommend a book for this year's prize.
Visit our archive to see previous winners.